137th Anniversary Commemoration adds inspiration for present day
The current struggle by the nurses, techs and support staff at Milwaukee's St. Francis Hospital is following the legacy of the workers who marched 137 years before down the streets of the city's Bay View neighborhood, campaigning for the eight-hour-day.  They were headed toward the massive Bay View Rolling Mills, only to be met by armed militia who fired into the marchers, killing seven.
Alan Chavoya told more than 200 persons attending the 137th Anniversary Commemoration of the Bay View Tragedy that "Milwaukee's militant worker history is what we are celebrating here today."  Chavoya, a member of Local 212, American Federation of Teachers, and outreach chair of the Milwaukee Alliance Against Racism and Political Oppression, has been a leader in the Coalition to Save St. Francis Hospital.
The hospital, which serves a growing Hispanic neighborhood on Milwaukee's South Side, has closed its labor and delivery unit, the only such facility on the South Side.  The hospital's parent company, Ascension Wisconsin, may be headed for further service cuts, or even closure, it is feared.  The hospital's nurses, aides and other staff are members of the Wisconsin Federation of Nurses and Health Professionals, a division of the AFT.  Read more.
______________
NOTE:  During the period of Covid and due to pandemic restrictions, the traditional outdoor ceremonies had to be cancelled. To continue the tradition, the Society arranged the following two events:
The ceremony prompted at least 50 persons to attend, as Covid-19 restrictions had been lifted; the crowd assembled in spite of little publicity.  The event had only been advertised as a virtual event.  The event was lives-treamed and can be
viewed here
.
MAY 3, 2020
1)  Video links 1886 event with current crisis
A 25-minute video, entitled "The Bay View Tragedy: Remembering Champions in the Fight for the 8-Hour Day," was produced and premiered May 1. The video features a panel discussion, and includes illustrations and music. Five historians and unionists discussed the Bay View Tragedy of May 5, 1886 and its relevance in today's world.  Participants were:
John Gurda, historian and popular commentator on public television.
Elizabeth Jozwiak, professor of history at UW-Whitewater-Rock County campus.
Harvey Kaye, professor of Democracy and Social Justice at UW-Green Bay.
Jon Shelton, professor of Democracy and Social Justice at UW-Green Bay.
Candice Owley, chair of this year's event and retired president of the Wisconsin Federation of Nurses and Health Professionals.
2) Wreath-laying at brief Tragedy event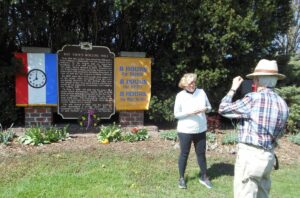 The annual commemoration of the Bay View Tragedy typically attracts crowds of about 300, but this year – due to the virus restrictions – the Society held a brief wreath-laying program. Ten persons attended, all maintaining social distancing. View the brief ceremonies by clicking below:   

https://tinyurl.com/bvwreath

On the first Sunday of May every year since 1986, several hundred persons gather at the corner of E. Russell Ave. and S. Superior St., in the Bay View neighborhood of Milwaukee to hold a Bay View Tragedy Commemoration sponsored by the Wisconsin Labor History Society. The event is to spotlight the struggles of workers in the 19th Century to obtain decent working conditions, concentrating mainly upon establishing the eight-hour-workday.  On May 5, 1886, some 1500 laborers in a rally headed by the Knights of Labor marched toward the Bay View Rolling Mills site, campaigning for shorter work hours.  State Militia troops stationed at the site on orders from Wisconsin Gov. Jeremiah P. Rusk fired into the crowd, killing seven. __________________