On the first Sunday of May every year since 1986, several hundred persons gather at the corner of E. Russell Ave. and S. Superior St., in the Bay View neighborhood of Milwaukee to hold a Bay View Tragedy Commemoration sponsored by the Wisconsin Labor History Society.
The event is to spotlight the struggles of workers in the 19th Century to obtain decent working conditions, concentrating mainly upon establishing the eight-hour-workday.  On May 5, 1886, some 1500 laborers in a rally headed by the Knights of Labor marched toward the Bay View Rolling Mills site, campaigning for shorter work hours.  State Militia troops stationed at the site on orders from Wisconsin Gov. Jeremiah P. Rusk fired into the crowd, killing seven.
In recent years, the commemoration ceremony has featured a re-enactment of the tragic event, accompanied by a keynote speech.  Due to pandemic restrictions, the annual Commemoration of the 134th Anniversary of the Bay View Tragedy this year was a 'virtual' event. Originally scheduled for Sunday, May 3, the traditional outdoor ceremony has had to be cancelled due to the COVID-19 pandemic. To continue the tradition, the Society arranged the following two events:
The ceremony prompted at least 50 persons to attend, as Covid-19 restrictions had been lifted; the crowd assembled in spite of little publicity.  The event had only been advertised as a virtual event.  The event was livestreamed and can be viewed here.
MAY 3, 2020
1)  Video links 1886 event with current crisis
A 25-minute video, entitled "The Bay View Tragedy: Remembering Champions in the Fight for the 8-Hour Day," was produced and premiered May 1. The video features a panel discussion, and includes illustrations and music. Five historians and unionists discussed the Bay View Tragedy of May 5, 1886 and its relevance in today's world.  Participants were:
John Gurda, historian and popular commentator on public television.
Elizabeth Jozwiak, professor of history at UW-Whitewater-Rock County campus.
Harvey Kaye, professor of Democracy and Social Justice at UW-Green Bay.
Jon Shelton, professor of Democracy and Social Justice at UW-Green Bay.
Candice Owley, chair of this year's event and retired president of the Wisconsin Federation of Nurses and Health Professionals.
2) Wreath-laying at brief Tragedy event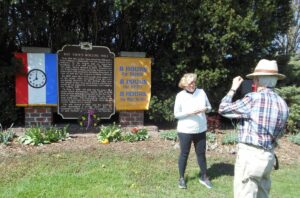 The annual commemoration of the Bay View Tragedy typically attracts crowds of about 300, but this year – due to the virus restrictions – the Society held a brief wreath-laying program. Ten persons attended, all maintaining social distancing. View the brief ceremonies by clicking below:   https://tinyurl.com/bvwreath