ZEIDLER ACADEMIC AWARDS For Research Papers in Wisconsin Labor and Working-Class HistorY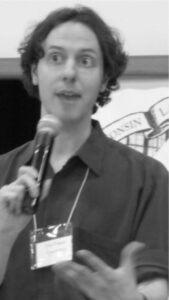 For college and university students, the Wisconsin Labor History Society conducts an annual competition to determine the winners of the Zeidler Academic Awards for the best original research papers about Wisconsin labor and working-class history. The awards honor Milwaukee Mayor Frank P. Zeidler, the most recent Socialist to hold that office (1948-1960), for his lifelong efforts toward the advancement of Wisconsin's citizens. Two cash prizes are offered each year:
One $500 prize for an original, previously unpublished research paper of approximately 4,000-10,000 words produced by an undergraduate student enrolled in any college or university (not restricted to Wisconsin or to four-year programs); and,
One $1,000 prize for an original research paper or article of approximately 8,000-16,000 words produced by a student enrolled in any graduate program (not restricted to Wisconsin), including law and other professional departments.
Complete details regarding the Zeidler Academic Awards will be found in a "Call for Research Papers" (which is issued annually with an updated deadline) and in the competition's "Writing Guidelines" (which remain the same from year to year). PDF versions of these documents, as well as any others needed for the competition, will be found in the links immediately below:
2023 Call for Zeidler Academic Awards
The List of Graduate and Undergraduate Students who have won the awards since 2002 are:
2002 Graduate Category:  Eric J. Morser, a doctoral student at the University of Wisconsin-Madison, for his paper, "Battling for the Soul of the Second City: Workers, Municipal Government, and the Labor Movement in La Crosse, Wisconsin, 1850-1900"
2003 Graduate Category:  Thomas O. Noonan, a master's student at Marquette University, for his paper, "Child Labor in Wisconsin: An Assessment of Early Twentieth-Century Reform Movements"
2004 Graduate Category:  Zachary K. Lutz, a doctoral student at Northern Illinois University, for his paper, "Militant Pragmatism: The Socialist Party and the Activist Unemployed in Milwaukee, 1929-1935"
2005 Undergraduate Category:  Cassandra Irwin, a senior student at the University of Wisconsin-Oshkosh, for her paper, "The Kohler Strike of 1954: The Kohler Company's Resistance to 'Outside' Union Representation"
2006 Graduate Category:  Maia Surdam, a doctoral student at the University of Wisconsin-Madison, for her paper, "Migrant Camps and Family Farms: The Politics of Housing, Community, and Citizenship in Wisconsin Agriculture, 1930s-1970s"
2007 Undergraduate Category:  Joel Feingold, of Janesville, a student at the University of Wisconsin – Madison, for his undergraduate essay on "Red (White and Blue): Communism, Finnishness and America in the Upper Midwest, 1907-1940."
2008 Undergraduate Category:  Zachary Sell, a senior student at the University of Wisconsin-Milwaukee, for his paper, "'Good Homes Make Good Workers': Migration, Housing, and the Making of Black Beloit"
2009 Graduate Category: Joseph M. F. Fronczak, a doctoral student at Yale University, for his paper, "The Deeds ofHenry Dodge:  Rethinking the Labor of Wisconsin's Origins"
2009 Undergraduate Category: Adam C. Breihan, a senior student at the University of Wisconsin-Madison, for his paper, "Triumphant Insurgency: Meyer Adelman and the Emergence of the Wisconsin Steel Workers Organizing Committee"
2010 Graduate Category: Naomi R. Williams, a doctoral student at the University of Wisconsin-Madison, for her paper, "Local Struggles and Labor's 'Decline':  Hospital Workers in Racine, Wisconsin, 1976-1985"2011 Undergraduate CategoryKristen Schumacher, a senior student at the University of Wisconsin-Madison, for her paper, " 'We Have Just Begun to Fight': Radical Unionism, Taft-Hartley, and the United Electrical Workers Local 1113 Strike Against Marathon Electric"2011 Graduate CategoryAdam Mertz, a master's student at Marquette University, for his paper, "Forged in the Fire of Community: The 1974 Hortonville Teachers' Strike and the Rise of Modern Conservatism"
2011 Undergraduate Category: Kristen Schumacher, a senior student at the University of Wisconsin-Madison, for her paper, " 'We Have Just Begun to Fight': Radical Unionism, Taft-Hartley, and the United Electrical Workers Local 1113 Strike Against Marathon Electric"
2011 Graduate Category Adam Mertz, a master's student at Marquette University, for his paper, "Forged in the Fire of Community: The 1974 Hortonville Teachers' Strike and the Rise of Modern Conservatism"
2012 No Award Given
2013 Undergraduate Category:  Timothy Melgard, a senior student at the University of Wisconsin-Milwaukee, for his paper, "Theodore Rudzinski and the People's Party:  Defying Governor Rusk and Establishing Milwaukee's Labor-Based Political Tradition Following the Bay View Massacre"
2014 Graduate Category:  John Ertl, a master's student at the University of Massachusetts-Amherst Labor Center, for his paper, "Not All Sharp Cheese Is Aged:  An Account of Young Peoples' Involvement in the 2011 Wisconsin Uprising"
2015 Graduate Category:  Matthew Kearney, a graduate student at the University of Wisconsin – Madison, for his paper, "Escalating Moral Obligation in the Wisconsin Uprising of 2011"
2016 Graduate Category:  Pamela Stek, a graduate student at the University of Iowa, for her paper, "Standing Together Alone: The 1898 Oshkosh Match Workers' Strike."
2017-2018: No Awards Given
2019 Graduate Category:  Eleni Schirmer, a doctoral student at the University of Wisconsin-Madison, for her paper, " 'Power Is Only What You Chose To Do With It': The Social Movements the Milwaukee Teachers' Education Association Spurned, 1970-1974"
2020 Graduate Category:  (TIE) Jillian Jacklin, a doctoral student at the University of Wisconsin-Madison, for her paper, "The Midwestern Roots of McCarthyism:  Race, Gender, and Working-Class Conservatism in the Age of Anti-Communism"
                Joshua Kluever, a master's student at the Binghamton University for his paper, "The Golden Age of Socialism:  Wisconsin Socialists at the State Level"
2020 Undergraduate Category: Michelle Lokken, a senior student at the University of Wisconsin-Oshkosh, for her paper, "Catherine Conroy:  Bridging the Gap Between the Labor Movement and the Women's Movement, 1942-1989"